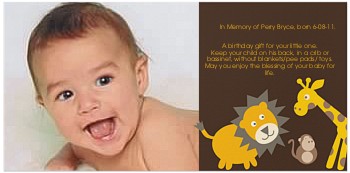 Safari Friends Cocoa Baby Announcements
Personalized cards for babies,
Valentines
, Easter and Mother's Day.

So preparations for Perry's Birthday begins. I know it will be a rough day and I am trying to do something proactive with it. Above is a copy of the card that I am including with sleepsacks that will be given out to parents of babies born on his birthday. I am going to cover at least Vanderbilt, but am considering branching off to other hospitals.
It infuriates me to think that for a small amount (probably the same as they charged us for the no slip socks), they could have sent us home with a sleepsack. The hospitals are what parents mirror when they go home. The blanket they are swaddled in sneaks into the pumpkin car seat, is used in the crib, and then when it gets colder a thicker one is substituted. More stuff starts creeping in.
I still do not know Perry's autopsy results, but I do not want any parent to have to experience the doubts and regrets that we do.